Learn to speak Hawaiian with live instruction in our Zoom-based Virtual Classroom or study at your own pace with interesting web-based audio, video, and textual lessons.
Virtual Classroom
Registration is now open for the OCTOBER to DECEMBER (2023) and JANUARY to MARCH (2024) Zoom classes. Find out more here.
All Learners, All Levels Welcome
You can start out in either the weekly Zoom-based ʻŌlelo Online Virtual Classroom (OOVC) classes or with the web-based materials here online without any prior experience in Hawaiian language. If you are already able to create simple sentences and want to move towards fluency in Hawaiian, then we recommend you attend the OOVC classes which go from Absolute Beginnner (previously mentioned) all the way to intermediate-high-level speaker levels.
Online Materials
ʻŌlelo Online web-based materials comprise video lessons about Hawaiian grammar and structure given in plain English language with accompanying documentation. There are also audio samples for absolute beginners, intermediate beginners, and budding Hawaiian language speakers. Listen to them to test your comprehension and practice your pronunciation.
Simple And Fun Explanations
Described in both the online videos and in the live OOVC Zoom classes are the Hawaiian grammatical structures you need for everyday communication, along with their relationships to English grammar. You will also learn about Hawaiian culture and how the language carries cultural understandings which will help round out your understanding of how Hawaiian language works, especially for those who may not be familiar with Hawaiian culture or the "local" culture here in the Islands.
Learn At Your Own Pace
Whether you are in the live ʻŌlelo Online Virtual Classroom (OOVC) classes or using the web-based resources for self-study, you can move along at your own pace. The amount and speed of your progress will depend on how much time you are able to dedicate to the process of learning the Hawaiian language. In the OOVC classes, you are welcome to take the same level multiple times —in fact, most students do. The material presented by kumu (instructor) Kaliko each Session is always fresh and new and targeted at the appropriate language level.
Guests Welcome
If you are a first-time visitor, please take a look around! Enjoy the free content found in the Books, Homework, Lessons, and Video areas. There are also sample videos available from the Virtual Classroom Homepage so you can see what classes in the OOVC are like. Feel free to contact us if you have any questions or comments.
Help Support ʻŌlelo Online
If you would like to help support ʻŌlelo Online, I think you will find the cost of membership very reasonable: 20 cents a day, or US $5.99 a month. Various membership subscriptions are available, including quarterly and full-year subscriptions. Most textual content is free, but membership is required for the full videos and audio files. Your support allows me to make and serve this content to you.
Members may login using the LOGIN area found on every page.
Aloha, Kaliko
Above: "Aloha au i ka pepeke!" (I love the pepeke Hawaiian phrase pattern) says kumu Kaliko while teaching at Hālau Nā Lei Hulu i ka Wēkiu in San Francisco, Summer 2010.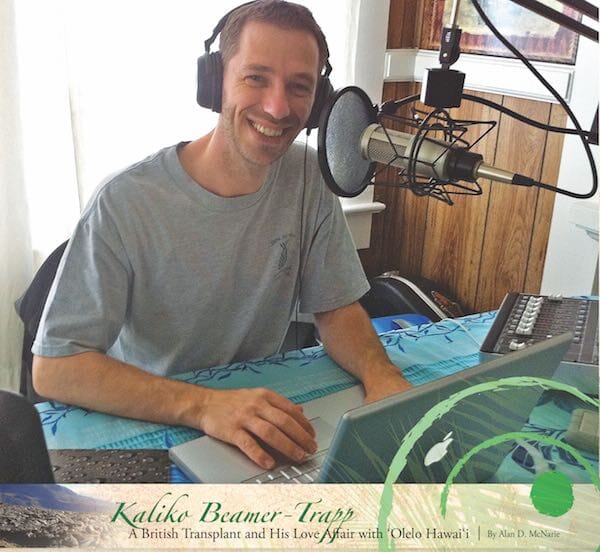 Kumu Kaliko recording a segment of a Hawaiian audio book in Pepeʻekeo, Hawaiʻi Island (from a feature article in Ke Ola Magazine, 2011).