Learn to speak Hawaiian with live instruction in our Zoom-based Virtual Classroom or study at your own pace with interesting audio, video, and textual lessons.
Registration is now open for the March 13th to May 12th Zoom Session. Find out more here.
ʻŌlelo Online offers video lessons about Hawaiian grammar and structure given in plain English language in a "pen and blackboard" format, with accompanying documentation. There are also audio samples for absolute beginners, intermediate beginners, and budding Hawaiian language speakers. Listen to them to test your comprehension and practice your pronunciation.
Described in the videos are the Hawaiian grammatical structures and their relationships to English grammar. You will also learn about Hawaiian culture and how the language carries cultural understandings which can help inform learners who may not be familiar with the Hawaiian culture or the "local" culture here in the Islands.
If you are a first-time visitor, please take a look around! If you would like to help support ʻŌlelo Online, I think you will find the cost of membership very reasonable: 20 cents a day, or $5.99 a month. Various membership subscriptions are available, including quarterly and full-year subscriptions.
Enjoy the free content found in the Books, Homework, Lessons, and Video areas, above. Most textual content is free, but membership is required for the videos and audio files. Your support allows me to make and serve this content to you. Feel free to contact me if you have any questions or comments.
Members may login using the LOGIN area found on every page.
Aloha, Kaliko
Above: "Aloha au i ka pepeke" (I love the pepeke Hawaiian sentence pattern) says Kumu Kaliko while teaching at Hālau Nā Lei Hulu i ka Wēkiu in San Francisco, Summer 2010.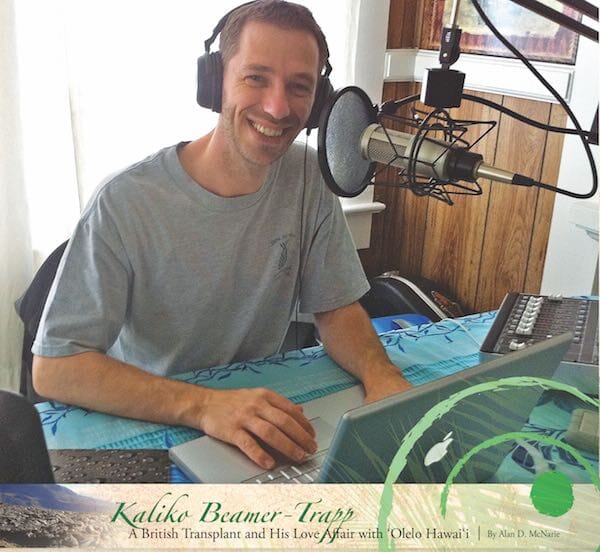 Kumu Kaliko recording a segment of a Hawaiian audio book in Pepeʻekeo, Hawaiʻi Island (from a feature article in Ke Ola Magazine, 2011).